James Kiester's Bio
---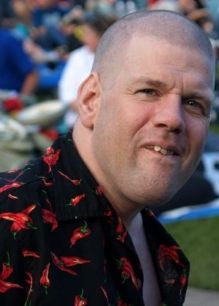 James Kiester was born on February 12th, 1970 with a condition known as Cerebral Palsy. Because this condition robs him of motor control, fine enough to allow him to walk and perform common tasks, the doctors told his parents he would never be able attend school. Thirty years, and one college degree, later, James owned his own Research/Website Design business and was doing volunteer work for his local Sheriff's Department. While his work kept him occupied, he always had the desire to write.
During the 2004 general election, eleven states passed some form of anti-gay legislation. James wanted to address the issue, but didn't want to simply write a letter to the editor and let it go at that. So, James began work on a murder mystery, "Murder According to Hoyle: A Nick Ferrous Mystery," which tells the story of the murder of a Senator who was trying to ban gay marriage on a federal level. To set his work apart from other mysteries on the market, he made the sleuth a professional poker player rather than the typical police detective or private investigator.
The fiscal crisis hit America just as James finished his book, and publishers scaled back on buying material from first time writers. However, he read that publishers were more likely to consider an unpublished writer's work if he/she already had an online following. With this in mind, James created a website for his work and a blog called Blogito Ergo Sum (I Blog Therefore I Am).
Blogito Ergo Sum, was meant to be a writing, literature, and current events blog. Yet, James found himself writing multiple entries about food, which had been a passion of his since his college days, when he helped fellow dorm dwellers learn to cook. When his culinary entries began to overwhelm Blogito Ergo Sum, he opened a second blog called On My Plate where he could share his thoughts about cheese, wine, restaurants, recipes, and other aspects of the epicurean realm.
Today, he spends the majority of his time, eight to twelve hours per day, operating his computer with his nose to maintain websites, blog, research possible stories, and write.
James' Micro FAQ
Home Town
Aloha/Beaverton, Oregon
---
Interests


Boxing (watching only),
Poker (playing & watching), Reading, Writing, Poetry, Mysteries, Science Fiction, Westerns, Recipe Collecting, Cheese, Wine, Beer,
Trying New Foods,
Current Events, British TV
---
Favorite Writers
Robert B. Parker,
Sir. Arthur Conan Doyle,
Agatha Christe,
Aaron Sorkin,
Willa Cather,
Garrison Keillor,
J. Michael Straczynski
& Anthony Bourdain
Click Here For James Kiester's
Favorite Recipes & Culinary FAQ
---
Back